Commander of the Joint Forces New Zealand Rear Admiral James Gilmour, who is leading the New Zealand delegation visit to the country, speaks to the press about the two countries' cooperation in national defence and maritime security.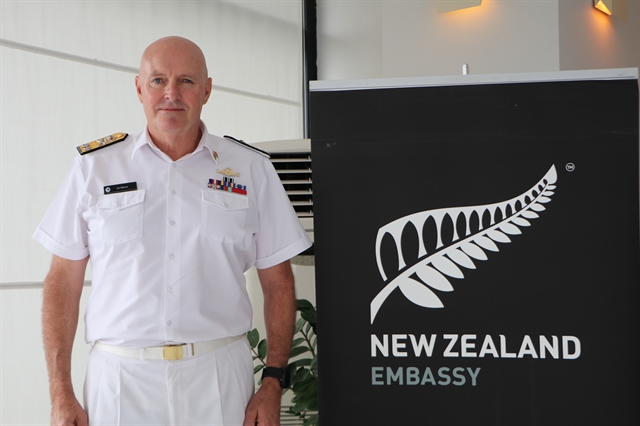 Rear Admiral James Gilmour, Commander of the Joint Forces New Zealand. — VNS Photo Nhật Hồng
In 2018, we witnessed the visit of one Royal New Zealand Navy ship to HCM City, and this time, we are honoured to have two Royal ships visiting. What is the significance of this visit and how it reflects the growing relationship between our two nations?
I think it's very positive. The fact that we have two Royal New Zealand Navy ships and HCM City now reflects the growing relationship between Việt Nam and New Zealand from a security setting. Both ships are now in HCM City, and they are hosting many dignitaries and Vietnamese armed forces personnel to view the ships and meet with the crew.
The crew is also conducting community outreach engagement across HCM City to charities and aid organisations and really enjoying their stay down there, it's a beautiful city. A lot of our crew members haven't been to Việt Nam before, let alone such a vibrant city as HCM City.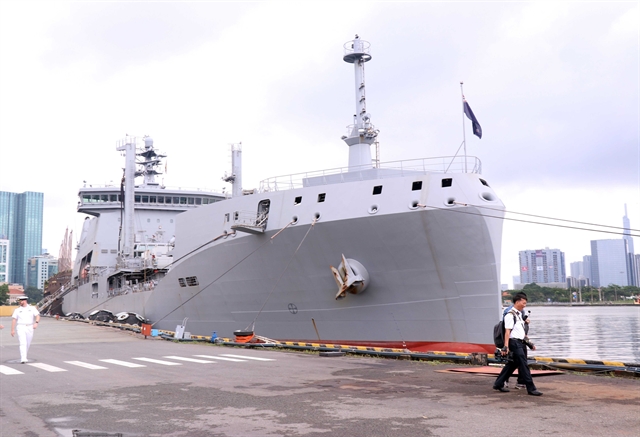 Sustainment vessel HMNZS Aotearoa, the largest vessel of the Royal New Zealand Navy, arrived at the international port of HCM City on Sunday. — VNA/VNS Photo Xuân Khu
Senior Lieutenant General Nguyễn Tân Cương, Chief of the General Staff of the Việt Nam People's Army visited New Zealand earlier this year, highlighting the commitment from both countries to enhancing ties in this crucial field. Could you share your perspective on the current state of partnership between our two countries in defence cooperation, and what areas do you believe hold potential for further expansion in the near future?
I think there are many strands to the relationship between Việt Nam and New Zealand. We're very honoured to host the Chief of General Staff for Việt Nam armed forces in New Zealand in July, which showed a growing relationship between our two countries. The visit of the two ships in HCM City and my visit to Việt Nam illustrate that New Zealand values the relationship between our two countries, and we wish to grow it.
I met with the Foreign Relations Department and also the Vice Chief of General Staff. The conversations that we had discussed a wide range of opportunities for us to do more together as two countries and two defence forces.
We have many shared interests, including maritime security concerns. It is very important for New Zealand and also Việt Nam that trade is unhindered across the oceans, no more so or less so than in the South China Sea (called the East Sea in Việt Nam), in this region. And the ability for trade to be able to pass through sea lines of communication unhindered through freedom of navigation and adherence with international laws is essential for our prosperity and yours.
We discussed many other opportunities besides maritime security, in which we could work together, including academic exchange, enhancement of English language training, collaboration, when it comes to peacekeeping training and peacekeeping operations and many other avenues in which we could further our relationship.
In New Zealand, we would always welcome further interaction and training together between our navies, our air forces and our army, and we look for opportunities when that is possible.
The relationship between New Zealand and the rest of the world is one that takes international and global security very seriously. New Zealand is a small country and requires international mechanisms to provide for our protection. So even though we are a small country, we participate in the maintenance of those mechanisms that protect us – international rules and norms. They include the provision of safe passage of shipping.
It's very important to New Zealand security that our trade is able to pass by the sea unhindered, particularly through this region. And as a maritime nation, I'm certain that Việt Nam would share those same ambitions that trade would flow freely.
The relationship with Việt Nam has shared values in many areas and shared objectives from global security in many areas, and New Zealand and Việt Nam will work together as closely as we possibly can.
We are separated by distance, and therefore, when we can bring ships into Việt Nam we do, when we can have people-to-people interactions we will, and will continue to look for opportunities that we can work together more.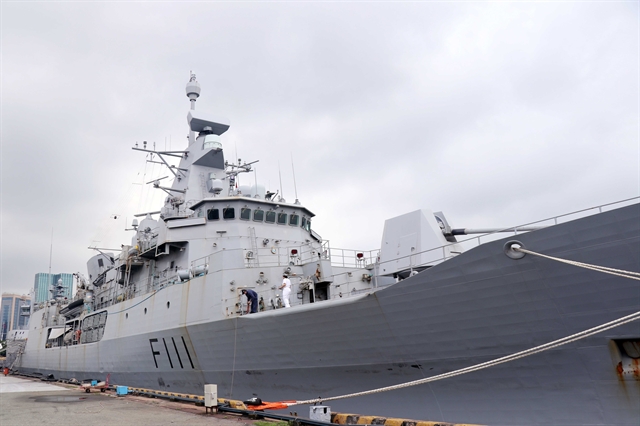 Frigate HMNZS Te Mana arrived at the international port of HCM City on Sunday.— VNA/VNS Photo Xuân Khu
You visited both Hà Nội and HCM City during this trip. What are your impressions of Việt Nam's seaport capacity, both in terms of infrastructure and human resources?
I'm very impressed, it has made me want to explore Việt Nam further. I have been to HCM City, I have been to Vũng Tàu, which was a real privilege as I was able to with my team join the ships as they came up the Mekong River and, and spent three or four hours making our way to HCM City.
I was able to look out over the sunrise on either side of the river, it was very warm and very beautiful. I was impressed with the professionalism of the harbour authorities, the pilots and the infrastructure. I would wish to see more of this country flying up from HCM City yesterday. It was absolutely beautiful, extraordinary geography.
How do you evaluate the peacekeeping forces of Việt Nam's national defence and their potential to thrive in the future?
I think the involvement of Việt Nam in peacekeeping operations in support of the United Nations is extraordinary. It's something that New Zealand does also – that's part of being an international global citizen. It's about an international rules-based order, and it's really important.
The peacekeeping training centre near Hà Nội here is world-class, and we have sent our people to participate in some of the training who were impressed with Việt Nam's contribution to UNMISS (United Nations Mission in South Sudan) with a hospital that's really impressive. It's a big undertaking, it requires a lot of effort and commitment to the global effort.
We are looking at areas where we might be able to increase our collaboration in issues such as women, peace and security and other avenues by which we could work together more. — VNS
Source: Vietnamnews